All posts by Chris Chapman
Newsroom
In honor of this year's National Assisted Living week, we put together a lip dub to Shakira's song, Waka Waka. We chose the song to honor the last day's theme, Africa/Safari. It was true fun putting together the video, with lots of dancing, singing and smiles! We hope you enjoy it.
Newsroom
Bronze-level Award Honors Senior Living Organizations
LARGO, FL. (June 16th, 2014) — Cypress Palms has been recognized as a 2014 recipient of the Bronze – Commitment to Quality National Quality Award for its outstanding performance in the health care profession. The award, presented by the American Health Care Association and National Center for Assisted Living (AHCA/NCAL), highlights facilities across the nation that have demonstrated their intention to pursue a rigorous quality improvement system.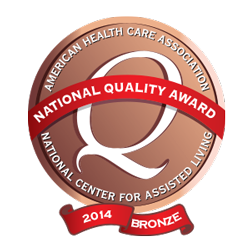 "I applaud Cypress Palms for its commitment to delivering quality care," said Mark Parkinson, President and CEO of AHCA/NCAL. "This award represents the dedication that each Bronze recipient has given to improve quality in the long term and post-acute care profession."
Implemented by AHCA/NCAL in 1996, the National Quality Award Program is centered on the core values and criteria of the Baldrige Performance Excellence Program. The program assists providers of long term and post-acute care services in achieving their performance excellence goals.
The program has three levels: Bronze, Silver, and Gold. Facilities begin the quality improvement process at the Bronze level, where they develop an organizational profile with essential performance elements such as vision and mission statements and an assessment of customers' expectations. Bronze applicants must demonstrate their ability to implement a performance improvement system. A team of trained Examiners reviews each Bronze application to determine if the facility has met the demands of the criteria. As a recipient of the Bronze – Commitment to Quality award, Cypress Palms may now move forward in developing approaches and achieving performance levels that meet the criteria required for the Silver – Achievement in Quality award.
The awards are sponsored by AHCA/NCAL Associate Business Member My InnerView, a web-based applied research and quality-management company that supports leaders across the entire assisted living, senior housing and skilled nursing profession with tools to measure, benchmark and improve performance. Cypress Palms was one of thirty-one Florida facilities to receive the Bronze level award. The recipient centers will be honored during the AHCA/NCAL's 65th Annual Convention and Exposition, October 5-8, 2014, in Washington, D.C.
Newsroom
Donation Planned on Behalf of Attendees to The Alzheimer's Association
LARGO, FL. (May 6th, 2014) — Cypress Palms, an assisted living community within the 88-acre master-planned Palms of Largo campus, managed by The Goodman Group, is proud to announce the grand re-opening of its state-of-the-art Pearl Essence® memory care community. First opened in 2009, Pearl Essence is the first residential memory care community in the county designed exclusively for women. Cypress Palms has been offering enhanced assisted living since it opened in 1996.
The grand re-opening celebration is scheduled on May 8, 2014 from 10:00 a.m. – 2:00 p.m. The event will include tours of the renovated area and information about its nationally-acclaimed Pearls of Life® program.
"We are proud of the major renovation completed at Pearl Essence," said Pradeep Muley, executive director of Cypress Palms, an enhanced assisted living community at The Palms of Largo. "The expansion of Pearl Essence is an extension of our memory care offerings at Cypress Palms and enables us to offer our innovative programming and therapies in a custom designed area that engages our residents' senses to enhance their lives."
Cypress Palms' expanded Pearl Essence community offers 27 Alzheimer's and dementia care apartments. The refurbished interiors feature expanded lobby and lounge areas with raised elliptical ceilings and recessed cove lighting, a redesigned kitchen and dining area, and a new sun porch. The interiors include custom paintedworks by Tampa-based fine art, mural and faux artist Fran Clanton, including faux painted sky murals on the ceilings, paintings of simulated windows, and a local Florida scenic mural. The property also features "outdoor porches" in the corridors, to help engage the residents' visual senses and bring the feeling of the outdoors inside.
As with its existing memory care area, Pearl Essence provides residents a self-contained environment and operates utilizing the Pearls of Life philosophy, a national dementia program which provides personalized care plans, a home-like environment. The Pearls of Life program also focuses on the daily successes and new experiences of each memory care resident, and Life Enrichment activities and programs.
Cypress Palms is donating $25 to the Alzheimer's Association on behalf of every guest that attends the event. For further information, contact Lindsey at 727-288-7329 or visit cypressalf.com.